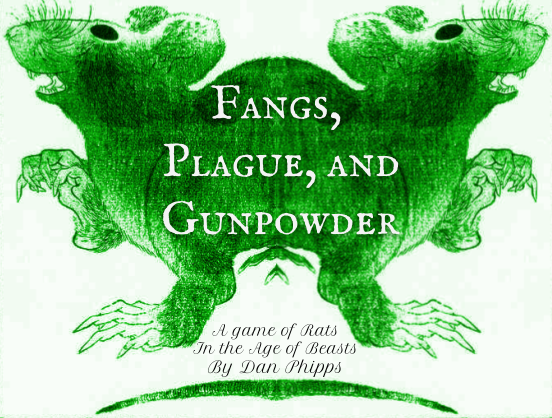 [Early Access] Fangs, Plague, and Gunpowder
A downloadable Tabletop RPG
THE AGE OF MAN HAS ENDED
The land is churning and blasted, and populated by vicious reptiles and other strange beasts. The cities of ratkind are bathed in the red sun, and beset by perils on all sides.
YOU WALK THE RAT KING'S ROAD
As explorers for The Nine Great Mischiefs who rule over ratkind you will explore strange frontiers, discover impossible anomalies, root out machine cults, and strike back against the reptile empire that seeks to bring all furred beasts to heel.
KILL YOUR FOES, BUILD WEAPONS FROM THEIR BONES
Outfitted as a Grenadier, Mutant, Occultist, or Slayer you know how to survive on the frontiers. Scavenge biomass from reptiles, ectoplasm from anomalies, and mechanisms from ancient machines. With these materials you can construct explosives, harness spirits, and devise experimental medicines to stand against ratkind's greatest foes!
IMPENDING DOOM STALKS YOUR TRAIL
Rest to recover your stress, build your concotions, and heal your wounds but don't stay in any one place too long. An unknown threat inches closer and closer, and every hour you stay in one place puts your team at risk.
RETURN AS A CHAMPION OF THE MISCHIEFS, OR LET YOUR SKULL DECORATE THE FRONTIER
Deal with death-worshipping cats and parley with questing dog knights. Reckon with technologies from the Age of Man and commune with ghosts of beasts long dead. Explore plains of raining skulls and palaces of arcane goats. Do it all and survive, using nothing but Fangs, Plague, and Gunpowder
Download
Click download now to get access to the following files:
Fangs Plague and Gunpowder Rules and Reference
480 kB
FPG Character Sheets
286 kB